Well… Going for shopping and having nice meals are not everything about good travel. Yes, you definitely need an entertainment. things to enjoy! Here are some places you will love to visit.
Kabukicho
Kabukicho, which is a red light district in Shinjuku, is full of entertainments. As it is red light district, you can literally buy "love" here, if you have a burning hole in your pocket. In addition to this, you can find many kyabakura, a hostess club which can be translated in 'cabaret club' in English, and host clubs. However, these night cultures are not everything about Kabukicho.

If you want to feel the real atmosphere of Kabukicho, I recommend that you visit here at night time, at least after 20:00. Bright lights will dazzle your eyes and some of you will feel dizzy after seeing  people packed on this street. You may already know, but robot restaurant is one of the most famous attractions you can enjoy in Kabukicho. The entrance fee is quite high as it's JPY8000 only for entering and watching the show. If you want to have a meal here there will be an extra charge for it even though name of here says 'restaurant'. Robot restaurant has fascinating performances with tons of lights and robots so that you will find out highly developed robot technologies in Japan. The robots are usually ridden by girls wearing cyber clothing and wigs.
Shinjuku gyoen national garden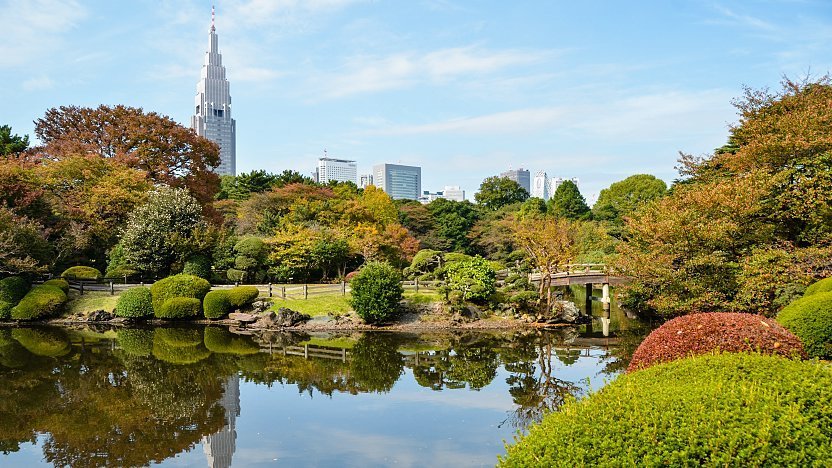 [source : japan-guide.com]
Do you want to stay away from grey buildings and refresh yourself by staying near nature in Shinjuku? If so, you should visit Shinjuku Gyoen National Garden. Shinjuku itself is a concrete jungle, however, Shinjuku gyoen national garden will give you a relaxation in this grey city like a central park in New York City. Have a deep breath and peaceful time. They do have an entrance fee, but it costs only around JPY200.
If you decide to visit here in early spring, you will feel blissful by cherry blossoms fluttering all around you. The gentle wind with warm sun, soft and sweet-smelling cherry blossoms, and peaceful atmosphere… everything is perfect in this garden for this time of year. Do you want a real Japanese life enjoying cherry blossom? Bring a bento(Japanese style lunch box) and have lunch under cherry blossom trees! I bet you can make unforgettable memories here.
shinjuku golden gai
Do you remember Omoide Yokocho we have introduced in our former posting? Shinjuku Golden Gai is quite similar to Omoide Yokocho, but you can find a lot of small pubs, especially specialized in cocktails, rather than yakitori(Japanese style grilled chicken) places. However, Omoide Yokocho and Shinjuku Golden Gai kind of share same characteristics like they have narrow way to pass and you can see the life of middle class life here. (Though more than 80% of customers became foreign tourists nowadays as it has been popular as a tour spot.)
You should not go here early in the morning or daytime if you want to see the true face of Shinjuku Golden Gai. Most of the pubs here open usually after 21:00, which is the golden time to pour some alcohols into your body. Imagine a street full of pubs, it's raining night, and you go into one small pub where has only 3~4 seats. There is one bartender and you are the only customer. If you know some Japanese, you may be able to keep talking about your hobbies or stories with bartender. Or maybe the bartender may speak your language. Isn't it awesome like a movie scene?
rent a pocket wifi in Japan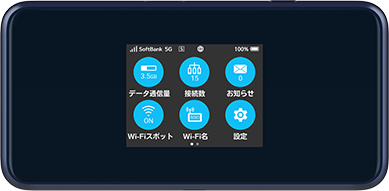 If you want to enjoy things above and make your travel to Japan more abundant, it is necessary to get online all the time. Regardless of its highly-advanced technologies, it is not easy to find free wireless(WiFi) hotspots in Japan. So, what we recommend for tourists who want to stay connected 24/7 and have exciting journey, is to use wifi rental services, which is also known as pocket wifi.
wifi rental japan is proud of being able to provide competitive price to you. It only costs JPY600(USD5~6) per one day. You can enjoy unlimited data wherever in Japan at any time with reasonable price.
*Advance mode only
*If you use more than 10GB within 3 days, speed limit will be applied to avoid congestion.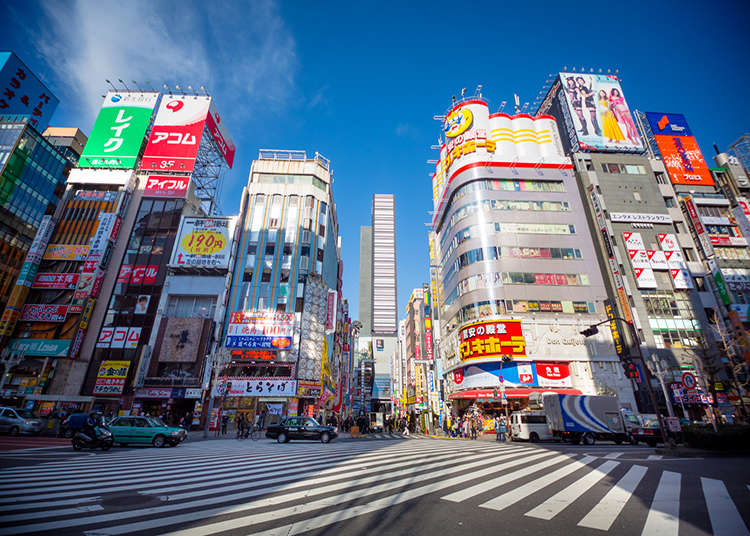 wifi rental japan wishes that all tourists have more comfortable and meaningful travel in Japan.
If you have any inquiries, please feel free to ask us.
CLICK HERE TO BOOK POCKET WIFI