A lot of portable wifi router companies advertise that you can enjoy unlimited data during your stay in Japan. wifi-rental-japan also introduces to customers that you can use unlimited data with our wifi router. However, there is a rule of using unlimited data and same thing applies to most of the wifi routers in Japan.
CHECK AREA MAP
wifi-rental-japan provides Y mobile 305ZT to our customers. Although this router is popular in Japan and many wifi rental stores handle it, it is impossible to cover every single area in Japan. For instance, if you hike up mountain and try to connect to the internet with wifi router, it will not work at all. In similar cases, it will not work as well if you are traveling countryside of Japan. Please refer to the following map.

First, you will be embarrassed by Kanji(Chinese characters) when you first opened the map. So, here I prepared an English version map!
Select a region you want to use wifi router then you will be able to see a map colored with blue and red. You can use advance mode in blue area. It means, usage of data is unlimited if you wish to use wifi router within blue colored areas. On the other hand, you cannot use advance mode in red areas. If you want to connect to the internet in red areas, you should change your wifi router to standard mode.
Standard Mode? Advance Mode?
(1) Advance Mode
As I explained above, you can use unlimited data with advance mode. The router will be set as an advance mode when you first receive it. Advance mode is classified as  4G AXGP. The speed of wifi is fast enough to use since it is still 4G, however, there is one problem of using advance mode. As you can see from the map, advance mode doesn't cover areas like underground and rural areas. If you are mainly staying in downtown and don't have any plans to go to rural areas, you can freely enjoy unlimited data, though it won't work well on the underground such as in the subway.
*If you use more than 10GB within 3 days, speed limit will be applied to avoid congestion.
(2) Standard Mode
Do you want to stay connected in the subway as well? I didn't say there is no way to connect to the internet in the subway. You can change your settings to standard mode. Standard mode is classified as 4G LTE. The difference between 4G AXGP and 4G LTE is its coverage area. 4G LTE covers wider range so that you can use internet connection on the underground or in rural areas as well. However, the usage of standard mode is limited to 7GB per month. If you use all 7GB, you will not be able to use wifi anymore(including advance mode).
recommendation
(1) Which region in Japan are you going?
If you are hesitating to order through wifi-rental-japan because you feel like the router will not work well in your travel areas, please feel free to ask us first. We will check carefully if you will be able to use unlimited data or not in your travel areas and let you know.
There sometimes are cases we provide different models of routers which work better in some specific areas. It is also a good idea to use standard mode if you are visiting rural areas just for few hours. Even if you decide to use other company's wifi router, please ask to the company first (1) if the router will work well and (2) if you can use unlimited data in your travel area.
(2) Switch the mode properly!
If you are traveling nearly downtown in big cities in Japan, you don't have to hesitate since the wifi router will work well without serious problems. The only problem is when you are in the underground(subway) and some specific areas where radio wave cannot reach. In this case, please switch your setting to standard mode then you will be able to use high speed internet connection again.
However, please don't forget to change the mode again when you don't need standard mode. As I said above, the usage of standard mode is limited to 7GB per month. Switching mode between advance mode and standard mode properly will make your travel better with our wifi router.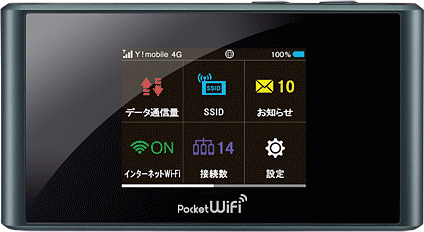 wifi rental japan wishes that all tourists have more comfortable and meaningful travel in Japan.
If you have any inquiries, please feel free to ask us.
CLICK HERE TO BOOK POCKET WIFI