Many of you who have tattoos on the body will be worried about coming to Japan due to its notorious "NO TATTOO ALLOWED" rules. It does not mean that people with tattoos cannot enter Japan. No tattoo rule is applied to public places like hot springs, pools, and some resorts. There is a stigma toward tattoos in Japan and though nowadays it is changing slowly, usually people do not have tattoos on their body.
In general, Japanese gangsters(yakuza) is considered to have tattoos on their whole body. However, it doesn't meant that all people having tattoos are somehow related to crimes. The phenomenon of being reluctant to people with tattoos has been changing since many celebrities and young people do it as a type of new fashion.

history of tattoos in japan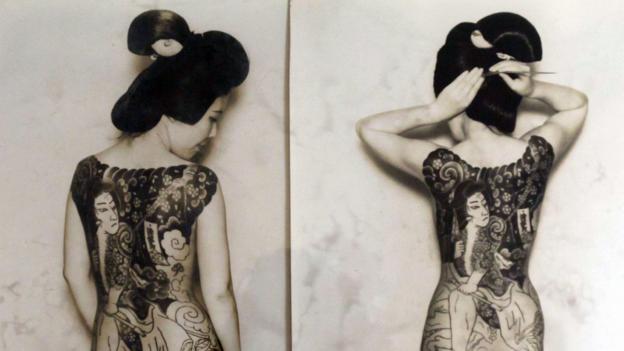 [source : http://www.bbc.com/travel/story]
It is not true that main stream of Japan was against tattoos from the first time. It is said that during Jomon period, which is between 10,000 BCE and 300 BCE, having tattoos was popular. Though there is no evidence to prove it, Chinese historical records say the face and body of Japanese men were tattooed. In this 17th century, tattoos were used to mark shame to criminals on their face.
Tattoos were banned in 19th century since country started accepting things from outside world. Japan was worried if their tattoo culture might be looked 'not modern' and 'not developed' that they would mock Japanese culture.  This legal prohibition continued until after 1945 and by now tattoo is considered to be rare thing to do in daily life.
WHERE CAN I NOT ENTER?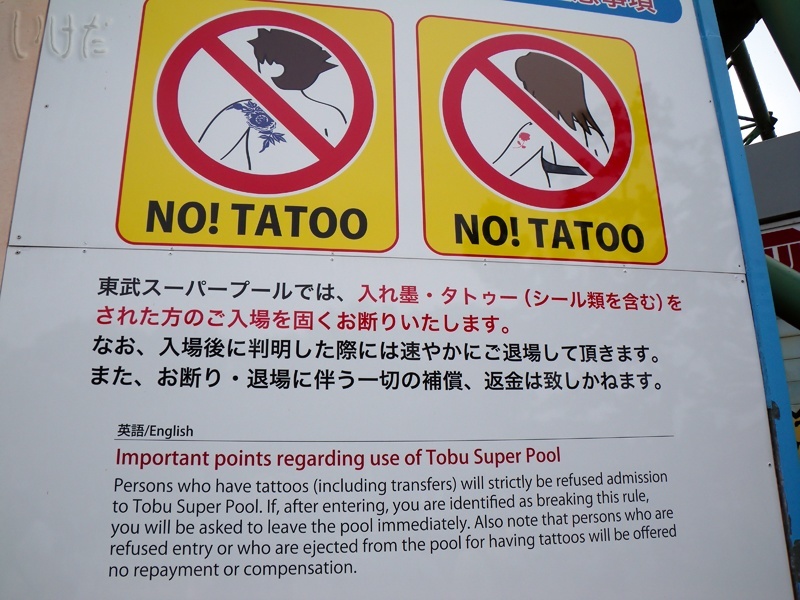 [source : https://www.insidejapantours.com]
Do you have tattoos on your body and you are worried about traveling Japan? There is no need to worry if your plan doesn't include visiting public hot springs and pool. Normally people with tattoos can enjoy mostly everything in Japan such as they can go any restaurants and shopping malls in Japan. If you are showing such a big dragon or tiger tattoo on your whole body and are not dressed at all, yes I'm talking when you are naked,  people on the street will be curious about it. However same thing will happen wherever in this world if you are not wearing anything.
As I described above, Japanese people especially young generation not really care about other people having tattoo or not. The story may become different if we want to talk about older generation, though. In addition to this, if your plan includes public pool and hot spring, there will be a lot of restrictions. If you found a tattoo-friendly place it's totally fine to enjoy there; however, public places where you must show your body will basically not let you use their facilities if you have a tattoo on your body.
so what should I do?!
If you really want to try public hot springs and public pools, there is only one thing you can do. Try to hide your tattoo if you can. You can buy a patch which will cover your tattoos and you will be able to use public pools and hot springs. If you are willing to pay more, using private hot spring is also an option.
Since prohibiting tattoos in public place has started being considered as a type of discrimination, Japan is trying hard to change the image about tattoos. In Tokyo, there are several tattoo friendly hot springs and sento(Japanese communal bath house). It is better to check if public hot spring you want to visit allows people with tattoo or not. In some cases, you may not be able to get any refund even if you entered there and they said you cannot be there.
best pocket wifi rental in japan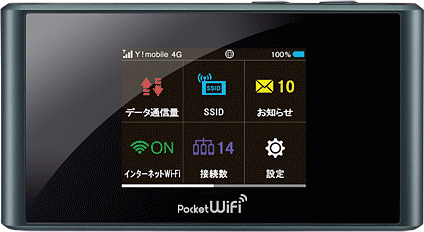 If you want to make your travel to Japan more abundant, it is necessary to get online all the time. Regardless of its highly-advanced technologies, it is not easy to find free wireless(WiFi) hotspots in Japan. So, what we recommend for tourists who want to stay connected 24/7 and have exciting journey, is to use best pocket wifi in japan.
wifi rental japan is proud of being able to provide competitive price to you. It only costs JPY600/900 per one day. You can enjoy unlimited data wherever in Japan at any time with reasonable price. This pocket wifi rental in japan let you pick up wifi routers at airport. Enjoy japan with wireless pocket wifi.
*Advance mode/high speed mode only
*If you use more than 10GB within 3 days, speed limit will be applied to avoid congestion.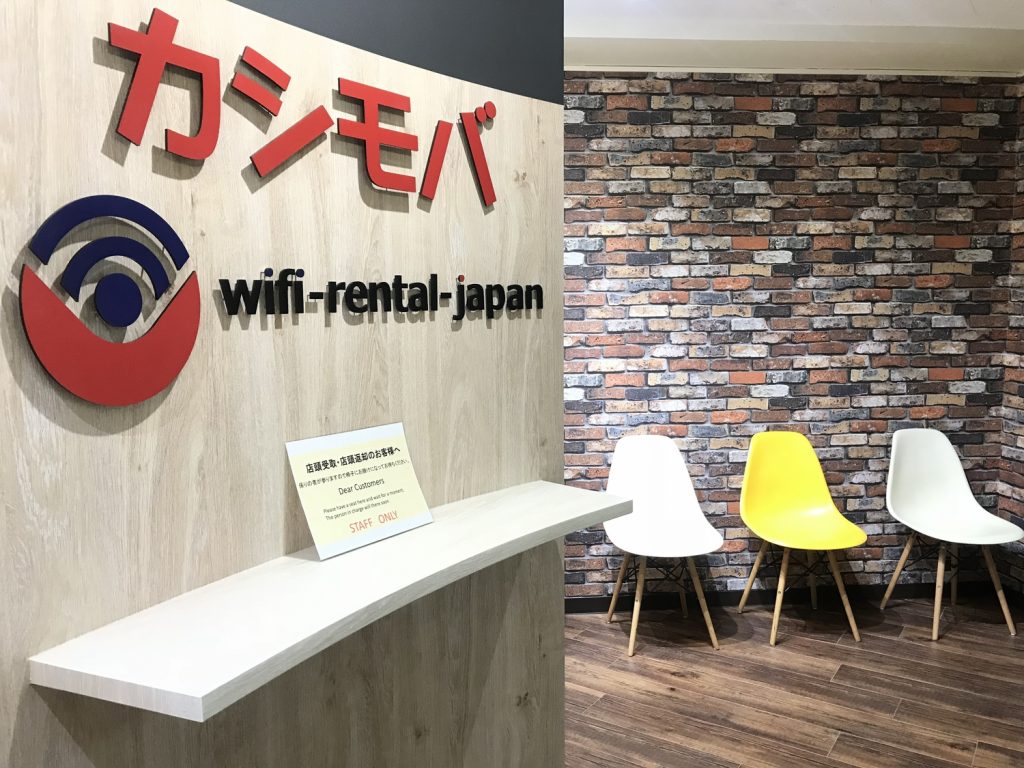 wifi rental japan wishes that all tourists have more comfortable and meaningful travel in Japan.
If you have any inquiries, please feel free to ask us.
CLICK HERE TO BOOK POCKET WIFI
#best pocket wifi rental japan #japan wireless pocket wifi #japan mobile and wifi router rentals #pocket wifi japan review #japan wifi rental airport #best pocket wifi japan 2018 #japan pocket wifi rental narita airport