[source : http://willerexpress.com/en/fujiq/]
Are you searching for an amusement park near Tokyo but you are not interested in Disney Land? You want to try some attractions extreme? If so, I recommend you visiting FujiQ Highland, which is located in Yamanashi prefecture. It takes only an hour and a half by bus from Shinjuku Station to FujiQ Highland or you may rent a car and drive along the way to Yamanashi. If you have confidence about driving a car in Japan, a left-hand drive country, I recommend driving a car since there are other tour destinations such as Kawaguchiko in Yamanashi.
Take a Bus to Get to FujiQ Highland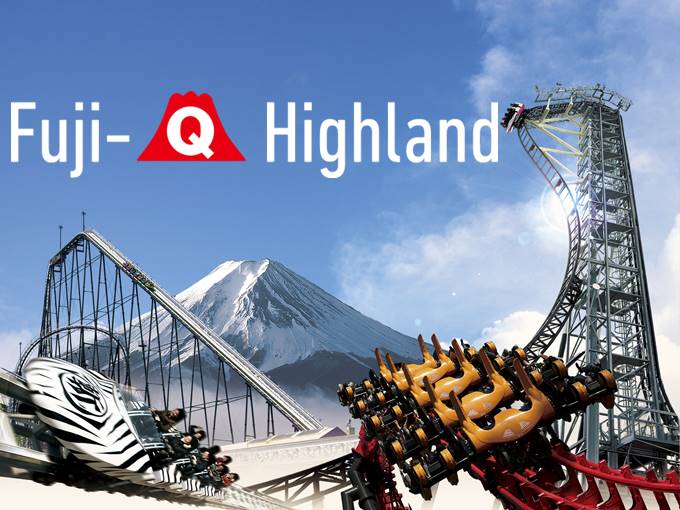 [source : https://www.hisgo.com/j1/Contents/OptionalTour]
I am going to give you an example about how to get to FujiQ highland from Shinjuku station. However, you can also take a bus from some famous tour spots such as Shibuya, Ikebukuro, and Akihabara. If you are traveling from Shinjuku station and planning to buy a free pass, which enables you to take all attractions in FujiQ highland, it costs JPY 7,000. This price includes a bus ticket fee for round trip between Shinjuku and FujiQ Highland and free pass.

It takes 1 hour and 40 minutes and the bus operated from 6:05 a.m. in the morning so you can arrive at FujiQ HighLand before they open. You can take attractions unlimited times with free pass; however, you need to pay additional fees and buy tickets to try some attractions such as haunted house. If you visit the website of FujiQ HighLand, you can also find a package of renting a car for 24 hours and free pass. You may choose your preferred option.
recommended attractions
(1) Eejanaika
[source : https://www.fujiq.jp/en/attraction/eejanaika.html]
If you want to feel what real 'extreme' is, try eejanaika. Eejanaika means 'Ain't it great?!' in English. First, the staff will ask you to take off your shoes and glasses. If you have something on your pocket, you must put all items in the prepared cabinet or you will lose all and hurt somebody. Each seat rotates forward and back 360 degrees and throughout the ride, the riders experience 14 inversions. In fact, it was on the Guiness Book of World Records as a rollaer coaster with the most inversions in the world with The Smiler at Alton Towers.
In addition to this, this roller coaster doesn't allow you to see the front since the seats are designed to be seeing backside. The fear of not knowing how high it is going to go up gives thrills to riders and once it starts rotating, you may not be able to think about anything. However, taking eejanaika during winter time can be very cold and usually we need to wait more than 2 hours to take few minutes ride.
(2) Do-dodonpa
[source : https://www.fujiq.jp/en/attraction/dododonpa.html]
Do-dodonpa, which was named as dodonpa before renovation, boasts super high speed. Riders can expereince 180 kilometers per hour with 1.56 seconds. It is very difficult to catch a moment when do-dodonpa is passing by due to its crazy high speed. Total riding time is only 55 seconds and its maximum heing is 49 meters. Once you board the ride, the train will move to the launch pad. At this time you may think it is nothing because it doesn't move so fast.
Then riders are given three seconds and train is launched at acceleration. Some people describe this as a experience of dividing your soul and body. 8 people can take one train so you can take it with your friends or family. There was a big renovation of do-dodonpa(formerly dodonpa) in 2016. In 2017, Dodonpa was reopened with new name do-dodonpa. In the past it was 172 kilometers per hour in 1.8 seconds; however, it became 180 kilometers per hour in 1.56 seconds. Length has been also increased.
(3) Takabisha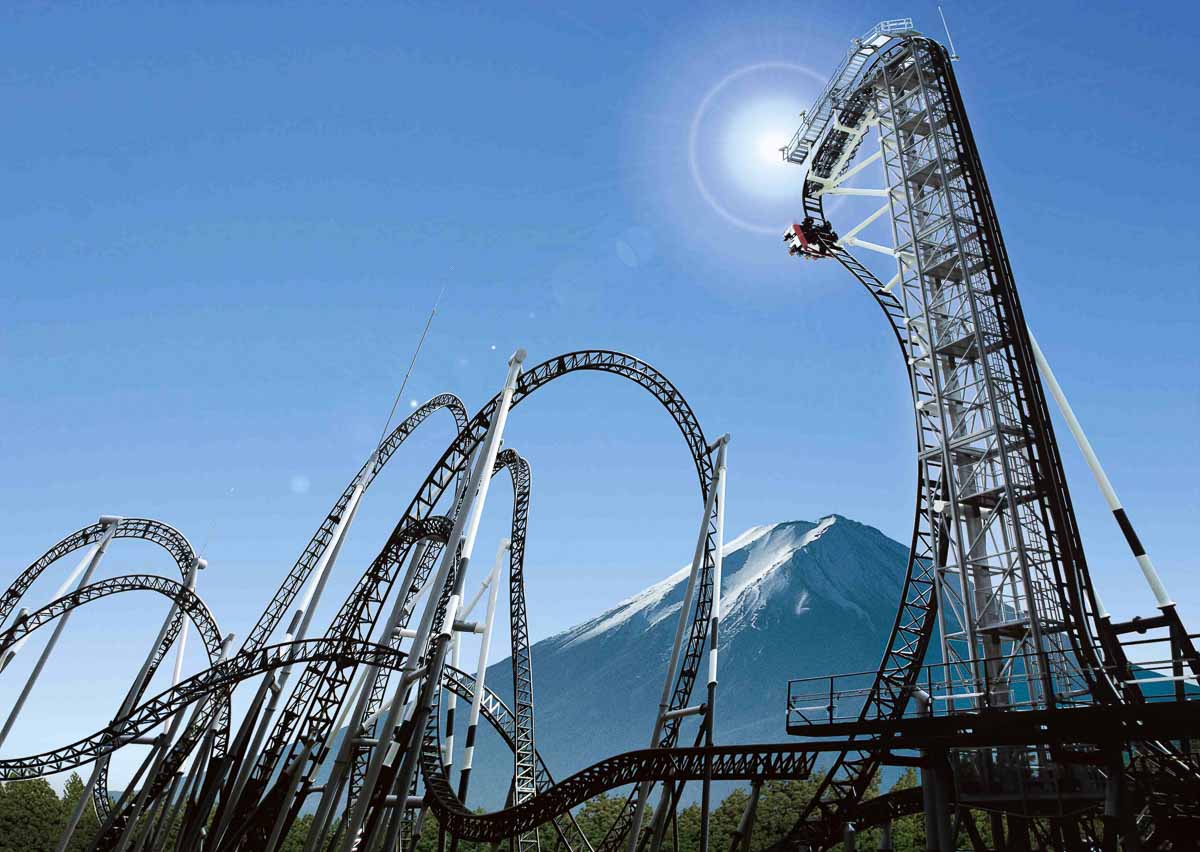 [source : https://thetravelintern.com/fuji-q-highland-guide/]
Takabisha is comparatively new roller coaster in FujiQ Highland since it was built in 2011. It is the world's steepest roller coaster which boasts a drop 90° down but dangles at the edge for a moment before dropping down 121° inwards. It simply means, you see nothing in front of you other than air. Takabisha also gained the Guinness World Record for the steepest roller coaster made from steel. It is common for people to wait more than 2 hours to take this short ride roller coaster.
(4) Fujiyama
[source : https://www.fujiq.jp/en/attraction/fujiyama.html]
In general, roller coaster finishes very quickly. However, Fujiyama boasts a long ride. The total length of course reaches more than 2 kilometers and for the height it's 79 meters. Fujiyama is usually called as 'King of Coaster' and it is said that more than 22 million passengers tried this as of 2017. It simply shows the popularity of Fujiyama. Compare to other roller coasters in FujiQ Highland, Fujiyama is not very extreme; however, you should not neglect the fact that FujiQ Highland features mainly 'screaming attractions'.
(5) Haunted House
[source : http://www.sakura-house.com/blog/blog/2016/10/14/]
Some of you may not be interested in haunted house, but mania visit Fuji Q Highland only for trying their haunted house. One of the largest haunted houses in the world, this haunted house is consist of 2 stories and walking distance reaches almost 1 kilometer. This attraction is not available for preschool children and people who are in pregnant should avoid trying this since there are many factors that will astonish you.
From the point this haunted house first opened, it has gone through several renovations and each time the themes which will never disappoint passengers were introduced. To try haunted house, you need to pay additional fee to buy tickets. Customers with free pass need to pay JPY 4,000 for trying it; however, 4 people can be one team so it's going to be JPY 1,000 per person.
best pocket wifi rental in japan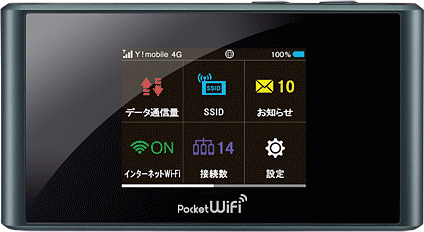 If you want to enjoy things above and make your travel to Japan more abundant, it is necessary to get online all the time. Regardless of its highly-advanced technologies, it is not easy to find free wireless(WiFi) hotspots in Japan. So, what we recommend for tourists who want to stay connected 24/7 and have exciting journey, is to use best pocket wifi in japan.
wifi rental japan is proud of being able to provide competitive price to you. It only costs JPY600/900 per one day. You can enjoy unlimited data wherever in Japan at any time with reasonable price. This pocket wifi rental in japan let you pick up wifi routers at airport. Enjoy japan with wireless pocket wifi.
*Advance mode/high speed mode only
*If you use more than 10GB within 3 days, speed limit will be applied to avoid congestion.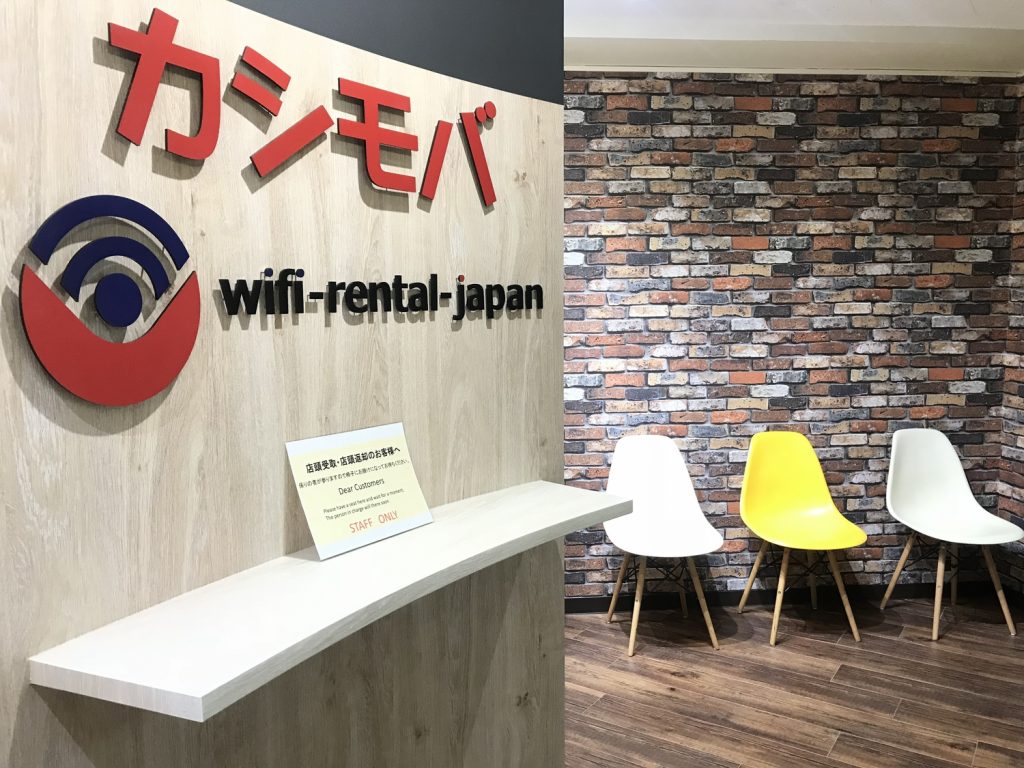 wifi rental japan wishes that all tourists have more comfortable and meaningful travel in Japan.
If you have any inquiries, please feel free to ask us.
CLICK HERE TO BOOK POCKET WIFI
#best pocket wifi rental japan #japan wireless pocket wifi #japan mobile and wifi router rentals #pocket wifi japan review #japan wifi rental airport #best pocket wifi japan 2018 #japan pocket wifi rental narita airport #best pocket wifi japan 2019
Best pocket wifi japan 2019, best pocket wifi rental in japan, japan mobile and wifi router rentals, japan pocket wifi rental, japan pocket wifi rental airport, japan wireless pocket wifi, pocket wifi japan review, japan wifi rental airport, best pocket wifi japan 2018, pocket wifi japan, pocket wifi rental japan, wifi router japan, wifi router rental japan, portable wifi japan, portable wifi router rental japan #best pocket wifi japan 2019