To a visitor wanting an airport receipt
We can send a Wi-Fi router to the postoffice in the airport to general delivery
You receive a WI-FI router at the post office in the airport ,and in the case of temporary homecoming, a trip and the business trip from the foreign countries , the use of the router is possible immediately.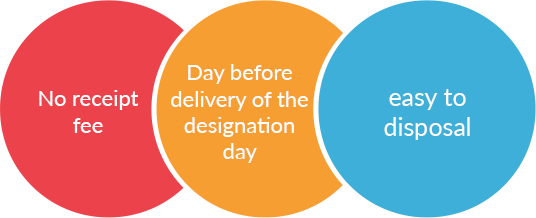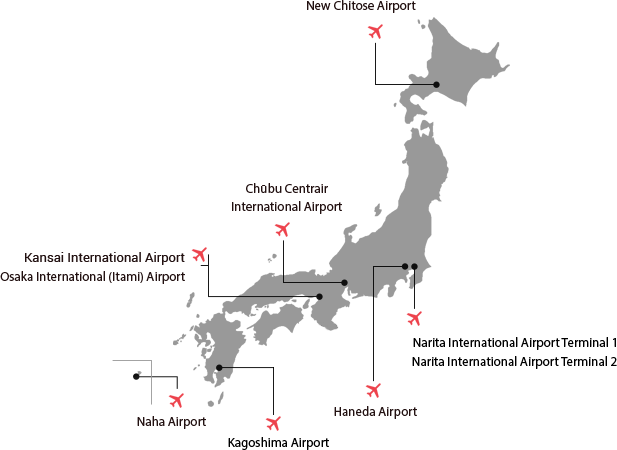 Product receipt method
Please pick up at designated post office or delivery counter.
【Post office】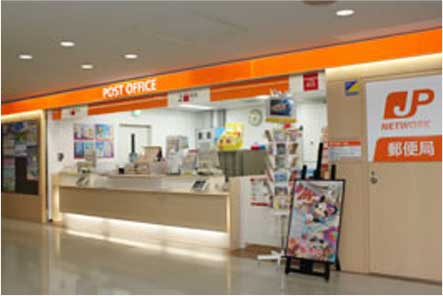 Pick up needs the following two:
Identification card (passport · driver's license etc)
Product tracking number (we will notify you by email after shipping items)
※ Notes on pick up ※
Please be aware of business hours.
If the specified date is the latest, it will always be delivered to the specified date.
When applying, be sure to fill in "flight number" and "arrival time". (Example JAL 123 13: 00)
Please order two days in advance.
【QL liner acceptance counter】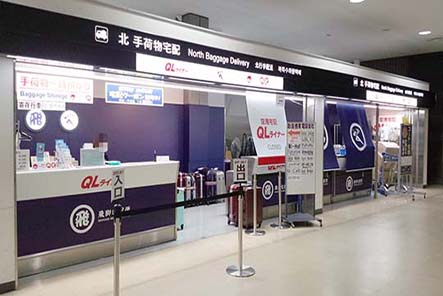 【JAL ABC Counter】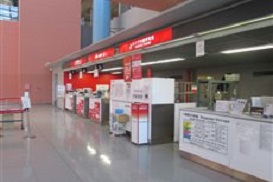 Return method
Please put nearly post until rental expiry date at next morning at 8:00 . Because of installing post at airport, you can use WI-FI router at the last minute on the last date your staying in japan.

一The reason that is pleased with by the person of temporary homecoming, the business trip
You can connect to the Internet after arrival immediately in Japan and can e-mail a family friend and open facebook.
If you are moving to hotel or tourist resort, You can use high-speed net anytime anywhere in Japan.
The return posts it with an exclusive envelope and mails it.
As there is the post in the airport, the use of WI-FI is possible to the departure limit.
you can use smart phone ,tablet made from abroad.
If you download talking application like skype, you can phone in Japan
List of postoffice in airport
Airport Name
Address
Business hours
Narita International Airport

post

Terminal 1

〒282-8799 Chiba prefecture Narita-shi Food farm 1-1 Narita International Airport 1st Passenger Terminal Building 4F Branch office within the first passenger building of Narita International Airport post office

8:30~20:00
[open all year round]Map

Terminal 2

〒282-8799 Chiba prefecture Narita-shi old 1-1 3rd floor in Narita International Airport No. 2 Passenger Terminal Building Branch office within the Narita International Airport post office second passenger building

8:30~20:00
[open all year round] Map

QL liner Home Delivery Counter

Narita International Airport 1st Arrival Lobby North QL Liner

〒282-8799 1-1, Goryoubokujou,Narita , Chiba Narita international Airport Terminal 1 North 1F QL lliner

6:30~the last flight
[open all year round]Map

Narita International Airport 1st (1F) Arrival lobby South QL liner

〒282-8799 1-1, Goryoubokujou , Narita ,Chiba Narita international Airport Terminal 1 South 1F QL lliner

6:30~the last flight
[open all year round]Map

Narita International Airport 2nd (1F) Arrival lobby QL liner

〒282-8799 1-1, Kogome, Narita, Chiba Narita international Airport Terminal2 1F QL lliner

6:30~the last flight
[open all year round]Map

Haneda Airport

Post office

Haneda Airport Post Office

〒144-0041 3-3-2, Haneda airport, Ota-ku,Tokyo Terminal 1 Building 1F
Haneda Airport Post Office

9:00~17:00
[Saturdays-and-Sundays public holiday closed]Map

JAL ABC counter

International Terminal 2F arrival lobby JAL ABC counter

〒144-0041 2-6-5 Haneda Airport 2-3-5, Ota-ku, Tokyo
Haneda JAL ABC Counter

Open 24 hours
[open all year round]Map

Kansai International Airport

Post office

Izumisano Post Office Kansai Airport Section

〒549-0011 1 Senshu-kuko-naka, Tajiri-cho, Sennan, Osaka
Izumisano post office Kansai airport separation office

9:00~17:00
[open all year round]Map

JAL ABC counter

Terminal 1, 1st floor Arrival lobby JAL ABC counter

〒549-0011 Terminal 1 Bldg. 1F, 1 Senshu-kuko-naka, Tajiri-cho, Sennan, Osaka
JAL ABC Delivery Counter

6:15~22:30
[open all year round]Map

Osaka International (Itami) Airport

Post office

Toyonaka Post Office Osaka International Airport

〒560-0036 3-555,Hotarugaikenisimachi Toyonaka City Osaka The Osaka international Airport branch of the toyonaka post office Poste restante

9:00~17:00
[open all year round]Map

Chūbu Centrair International Airport

Post office

The Centrair branch of the Tokoname post office

〒479-8799 1-1 Centrair, Tokoname, Aichi Centrair branch of the Tokoname post office poste restante

9:00~17:00
[Saturdays-and-Sundays public holiday closedMap

New Chitose Airport

Post office

The branch of Chitose Post Office New Chitose Airport

〒066-0012 Bibi, Chitose , Hokkaido New chitose airport terminal building 2F New Chitose airport post office poste restante

9:00~17:00
[open all year round]Map

Kagoshima Airport

Post office

Post office in Naha Airport

〒899-6404 822 Fumoto, Mizobe , Simple post office in kagoshima Airport poste restante

9:00~16:00
[Saturdays-and-Sundays public holiday closed]Map

Naha Airport

Post office

Post office in Naha Airport

〒901-0142 150 Kagamizu, Naha , Okinawa Post office in Naha Airport poste restante

9:00~17:00
[Except for year-end and New Year holidays] Map