Rental Products
Y!mobile A102ZT
Hassle-Free Set Up
Unlimited
Fast and Stable
Reasonable Price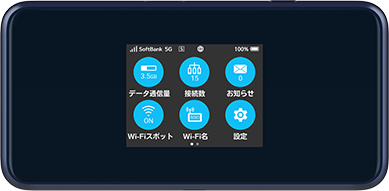 Enjoy stable connection with A102ZT
Enjoy High Speed WiFi and Wide Coverage Area.
Rental Price : ¥900/DAY
Model
Y!mobile A102ZT
Carrier
SoftBank/Y!mobile
Network
SoftBank 4G/4G LTE/5G
Max Speed
828 Mbps(Download)
46 Mbps(Upload)
---
Freely Switch Mode Setting

(1) Street/Outside/Urban Areas

Use advance mode, 4G AXGP signal with unlimited data.
Enjoy stable and high speed WiFi while traveling Japan.

(2) Subway/Underground/Rural Areas

Use standard mode, 4G LTE signal with data limit of 7GB/month.
Don't forget to change to advance mode when not using!
---
Enjoy High Speed & No Speed Limit

(1) Maximum 828Mbps for Download

The newest WiFi technology has been adapted to A102ZT.
Experience super high speed mobile WiFi router.

(2) No Speed Limit

There is no speed limit unless you use 10GB within 3 days.
In this case, speed limit is applied from 6:00 p.m. to 1:00 a.m. to avoid congestion.
* You will not be able to access to both advance and standard mode after using 7GB/month with standard mode.
---
The Most Competitive Price in Japan

(1) Free Shipping for Pick-up and Drop-off

You will get a package with mobile WiFi router, USB cable, AC adapter, pouch, instruction, and pre-paid return envelope. There is no additional fee for shipment.

(2) Tax Included Price

JPY 900 includes every fee required to rent a pocket WiFi router including tax. Save your travel budget with Y!mobile A102ZT