One thing you should never miss in Sapporo is to enjoy its foods. Located in the northern part of Japan, Sapporo is fifth biggest city in Japan which is famous for snow and seafood. You can enjoy fresh seafood and thick taste of dairy products anywhere in this beautiful city. In addition to this, Sapporo is also famous for beer, as here is a birth place of world-famous Sapporo beer. Everything in Sapporo will give you a pleasure by its taste, though it is a little pricey, since they will use the freshest ingredients ever.
Whatever you like Sapporo will never disappoint you. Sapporo is famous for uncountable mouthwatering dishes such as ramen, lamb barbecue, snow crab, soup curry, milk, cheese, and sweets. Yes, nearly everything you can make a connection with winter. Imagine that outside weather is freezing cold and you visit one small restaurant for having a bowl of ramen. Or it is also possible that you have a pint of beer with grilling lamb meat. In this article, we will look for dishes that we can enjoy in Sapporo.

Genghis Khan
Genghis Khan? A person in Chinese history who once was a Mongolian emperor? No, Genghis Khan, which also can be written as Jingisukan in Japanese, is a Japanese grilled mutton dish on metal grill. There are many hypothesis about why people started naming this dish as Genghis Khan.
Here is one of the most influential theories. Once the lamb was usually thought to be eaten by Mongolian soldiers in prewar Japan and they used their round shape helmets for cooking it, which resembles its metal grill. There are also other stories like people in Hokkaido started eating lamb due to some reasons.
(1) DARUMA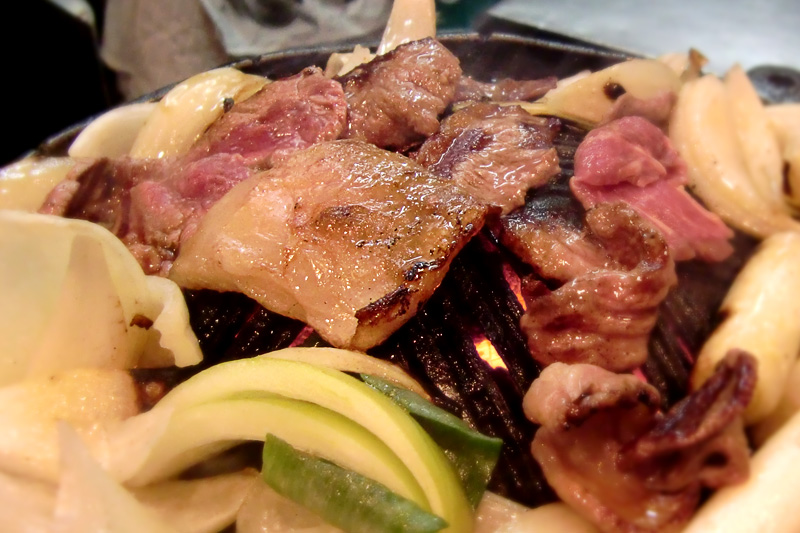 [source : http://best.miru-kuru.com/daruma/index-2a.html]
Sapporo Daruma is absolutely one of the most famous Genghis Khan restaurants. Daruma has 5 branches only in Hokkaido and a lot of people line up for each of them to taste their lamb meat barbecue. This restaurant has 60-year-history and this long history proves the quality of their dish. If you are expecting a posh restaurant you are in wrong place. If you care a lot about your clothes from soaking all types of smells and oils from yakiniku, Daruma is not a right place for you.
Daruma has bar-type small space for eating and this will make you feel closer with strangers sitting next to you. In some point of view we might say here is similar to Omoide Yokocho, Yakitori street in Tokyo. The price here is not very expensive. Although you may not be able to try various dishes due to its sold-out condition, one dish will cost around JPY 800-1,300. You may be a little bit disappointed by its amount; however, it deserves to pay since local people also wait 1~2 hours to enjoy Genghis Khan's lamb meat.
(2) SAPPORO BEER GARDEN SHIRAISHI PILSEN
Do you prefer more spacious place where you don't need to be in hurry for the next waiting customers? Or Are you a beer-lover and you really want to have bottomless beer? Then you should visit Sapporo Beer Garden. Asahi Beer Garden is very spacious so they can also allow groups and you can enjoy all you can eat style barbecues. If you are not familiar with lamb meet, you can also try pork and chickens.
They also provide buffet style salads and desserts. The most beloved one in this restaurants is an alcohol bar. This lovely bar provides bottomless alcohol to you including beer, whiskey, and rum. The price is not so expensive as JPY 3,500-4,300 per person including drinks. The price varies upon which course you have chosen such as 2 types or 4 types of lamb meat.
(3) RAM
[source : https://www.tripadvisor.co.nz]
A new rising star in Genghis Khan among tourists! The atmosphere of this restaurant is similar to Daruma since it is hard to say here is spacious and has bar-style seats. The price is very reasonable as one dish costs only around JPY 800-900 so it is also possible for you to taste various parts of lamb. If you pay JPY 108, you can have unlimited onions. For sure, menus such as limited part of whole lamb or lamb from Hokkaido itself becomes expensive like JPY 1,500-1,800 per one dish.
Just few years ago it was almost impossible to find foreign customers in this restaurants. Here was always full of local people; however, it has changed a lot. Now local people as well also need to line up for tasting RAM's lamb barbecue. It is usually said that it takes at least 30-40 minutes to enter the restaurants and have a seat.
soup curry
[source : http://www.yodobashi-akiba.com/restaurant/yy_coco.html]
It is not a soup. It is also not a curry. Well, it's just soup curry. Many of you will already know that curry is originated from India. Curry in Japan is slightly(or actually a lot) different from Indian curry since they don't use a lot of herbs. Japanese curry has more plain flavor and usually served with rice and that's why people call it 'curry rice' in Japanese.
Soup curry is different from normal curry rice. It has a feature of both Indian curry and Japanese curry. I would like to describe it as 'in the middle of' Japanese and Indian curry. There are many toppings available such as from chicken to lamb, and usually you can choose spicy level as well.
(1) COCORO
[source : http://cocoro-soupcurry.com/en/]
Cocoro soup curry was introduced by Michelin and you will see many people lining up in front of the store to have a bowl of curry. The price is between JPY 1,000~1,500 upon which menu and toppings you choose. If you wish to have very spicy one, you will have to pay extra JPY 100. They have spicy level from 1 to 100. The most famous menu is chicken vegetable soup curry and you will get a huge bowl stuffed with fresh vegetables and big chicken leg.
Since Sapporo is usually cold during winter time, it is the best choice to have soup curry to warm your body. The spices used in curry and the heat from this soup will keep your body warm and you will soon get addicted to this amazing taste once you try it. It is also good for children who don't eat vegetables because this well-cooked vegetables soaked the taste of soup as well.
(2) Suage+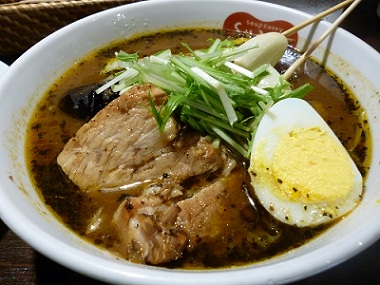 [source : https://www.best-of-sapporo-japan.com]
Suage+ is prepared with English menu since there are a lot of foreign travelers visiting here. You can choose which type of curry you would like to have(chicken, pork, lamb, beef), which soup you want(normal or squid ink), how spicy you want your dish to be, the amount of rice, and toppings. It is said that it takes more than 10 hours to make the broth of soup base at Suage+.
You will see very thick pork belly if you order pork curry I recommend that adding cheese will help you if you are not used to have spicy food. One dish costs around JPY 1,000~1,300 and the price goes up if you add more toppings. Also there will be additional charge of JPY 100 if you want to have large amount of rice.
(3) Garaku
[source : http://www.s-garaku.com/s/menu.php]
Garaku is one of the most popular soup curry restaurants in downtown Sapporo. Similar to other restaurants, Garaku also offers soup curry topped with chicken, pork, lamb, and vegetables. Basically soup curry places share same system such as we can choose spicy level and the amount of rice. It is also good choice to have lassi or beer with it. The interior of this restaurant features 1970's with Beatle's pictures on wallpaper.
If you are unlucky you may have to wait more than an hour to have one dish. However, the freshness of ingredients and savor of this dish is worthy enough to make us wait for a long time. Many people who have visited here only at one time in their life cannot forget the taste of Garaku's soup curry and try to make it by themselves at home. Don't worry, Garaku sells a box with the price of JPY 500 so you can try their taste again after you go back home.
best pocket wifi rental in japan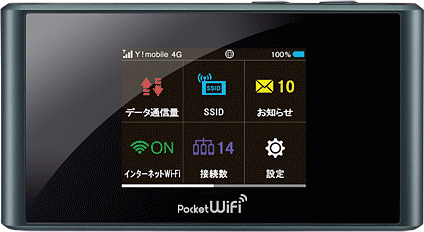 If you want to enjoy things above and make your travel to Japan more abundant, it is necessary to get online all the time. Regardless of its highly-advanced technologies, it is not easy to find free wireless(WiFi) hotspots in Japan. So, what we recommend for tourists who want to stay connected 24/7 and have exciting journey, is to use best pocket wifi in japan.
wifi rental japan is proud of being able to provide competitive price to you. It only costs JPY600/900 per one day. You can enjoy unlimited data wherever in Japan at any time with reasonable price. This pocket wifi rental in japan let you pick up wifi routers at airport. Enjoy japan with wireless pocket wifi.
*Advance mode/high speed mode only
*If you use more than 10GB within 3 days, speed limit will be applied to avoid congestion.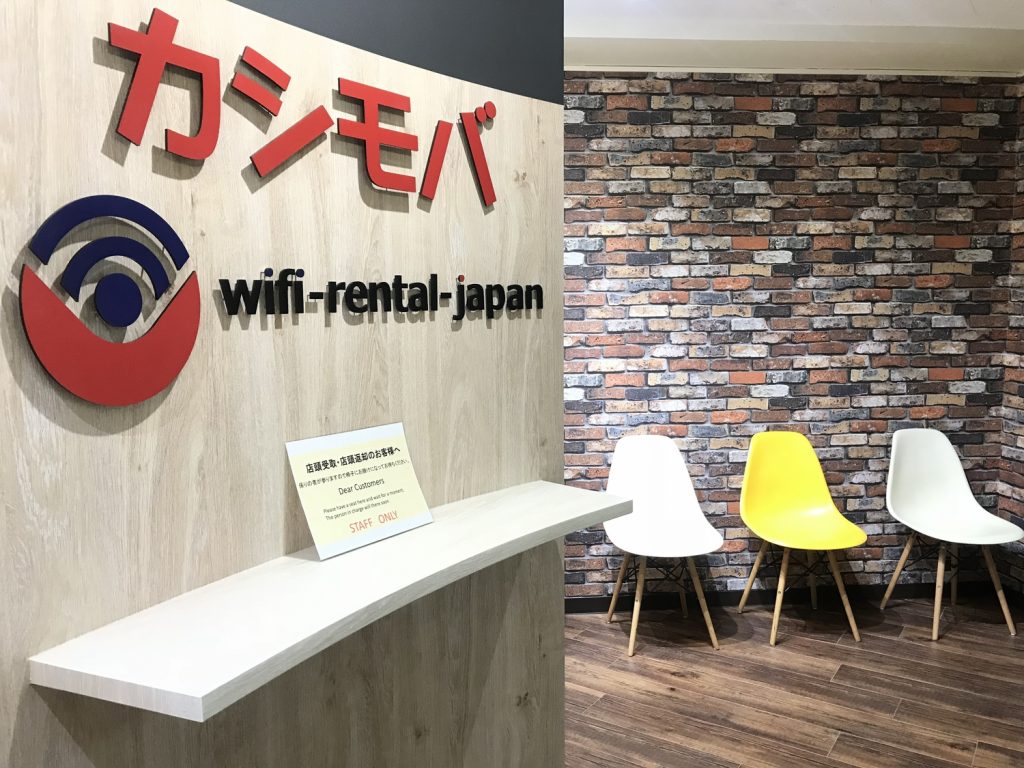 wifi rental japan wishes that all tourists have more comfortable and meaningful travel in Japan.
If you have any inquiries, please feel free to ask us.
CLICK HERE TO BOOK POCKET WIFI
#best pocket wifi rental japan #japan wireless pocket wifi #japan mobile and wifi router rentals #pocket wifi japan review #japan wifi rental airport #best pocket wifi japan 2018 #japan pocket wifi rental narita airport