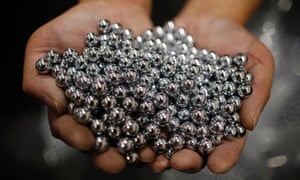 [source : https://www.theguardian.com/travel/gallery/2014]
If you ever traveled to Japan, you might have seen some places look like a game center. There are uncountable machines lining inside the store and people are sitting down in front of it and doing something with their hand. Sometimes you can also see some people have boxes fully filled with small silver balls. So, what is this place for? Why everybody in this place is looking at screen with serious face?
Here is a place called as "pachinko", where you can enjoy Japanese style gambling. Pachinko is a type of recreational arcade game, which is usually considered as gambling device, and it resembles slot machines in Western gambling. Similar to some other countries, gambling for cash is illegal in Japan. Therefore, it is also illegal to directly change pachinko balls to cash. There is a "special" way to change it to money, which will be introduced later on. In this article, we will look for the history of pachinko, how to play it, and how to change balls to money.

history of pachinko
[source : http://pachinko-shiryoshitsu.jp/en/structure-industry/history]
Pachinko machine at first was made as children's toy. This goes back to more than 80 years ago. This machine started gaining popularity from adults as well and finally machines for adults were invented as well. It is usually said that pachinko did not have features related to gambling until this time. Pachinko machines had to lose its popularity due to the influence of World War II; however, it reopened as a commercial parlor in 1948 and expanded its business size since then. Most pachinko parlors are owned by zainichi, which means ethnic Koreans living in Japan.
Post war era was the golden time of pachinko industry. Pachinko machines were more modernized in terms of resembling newest models with the birth of new mechanical technology. In early 1950s pachinko machines sent balls automatically from the tray and thanks to this development, more than 45,000 pachinko parlors were operated in Japan. It was natural for people to get addicted to pachinko so that Japanese government tried to ban it by enacting a low prohibiting machines which can shoot 140 to 160 balls per minute.
Pachinko started losing its popularity with this law and manufacturers developed newer version machines. Newer machines had more features related to gambling such as mixing mahjong or slots with pachinko. Pachinko parlors became popular again and a lot numbers of suburban pachinko parlors were opened. Nowadays there are uncountable numbers of themed pachinko machines from Japanese idols and dramas to anime and games.
how to play pachinko
First, you need to decide which machine you would like to play. Basically there are two types of machine; 1 yen and 4 yen. Some places also have 0.3 yen, 0.5 yen, and 2 yen as well. This money means how many balls you can get as well. For example, you will get 1000 balls with 1 yen pachinko machine when you put 1000 yen. If you are playing 4 yen machine, you will get only 250 balls with 1000 yen. You can handle a lever on the right side and adjust it so that ball can go into a hole in the middle-bottom part of the screen.
Did your ball go inside the hole? Then now you got a chance. It depends on which machine you chose, but you can easily guess you will get luck or not by checking the story. For example, let's suppose you are playing AKB 48 machine. One of their hit songs will suddenly start with their dance and the music goes to its climax. The screen will make you do something, for example, push the button, and that climax part will be played if you succeed. If fail, nothing will happen. You and turn the lever to the right side and you will get a lot of balls. Same thing applies to other machines as well. Each machine has their own hints to make player guess they will get luck or not.
how to get cash then?
As mentioned above, changing balls directly to cash is illegal. You can easily see a counter with snacks and drinks. You can bring a card(in case of using boxes to store balls, call staff and make X with your hands. They will bring balls to machine and count them.) The staff at counter will give you a chip and some snacks if there are remained balls. From this stage, you need to go outside and find where you can get money. Try to find a shop called TUC with yellow sign. Give your chips to the staff and they will exchange it to cash.
is pachinko illegal in japan?
[source : https://www.businessinsider.com]
I would like to say it simply, no. Pachinko is considered to be one type of amusements in Japan. Many people do not understand why it is legal and why so many pachinko parlors can operate without any severe restrictions. It is because they don't directly change cash and pachinko balls. It is also possible to change pachinko balls to snacks and drinks, and sometimes daily products such as detergents and toilet papers.
caution
You should be careful about one thing. First, you should never expect to earn money with playing pachinko. Although it is a type of gambling, pachinko is just a game. Try to get fun, not cash. Second, set your maximum. Never spend all of your money. I recommend you set your maximum as around JPY 1000-2000 and play 1 yen or below machine. It is very enough to enjoy. Third, if you want to try pachinko, you can also visit game centers. Game arcades such as Round One also has pachinko machine, but it is just for fun. It will be enough to know what Japanese pachinko is.
best pocket wifi rental in japan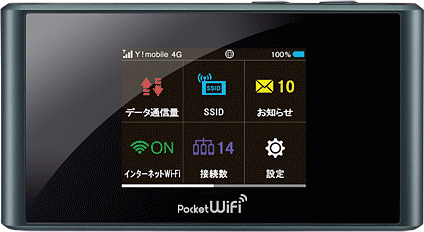 If you want to enjoy things above and make your travel to Japan more abundant, it is necessary to get online all the time. Regardless of its highly-advanced technologies, it is not easy to find free wireless(WiFi) hotspots in Japan. So, what we recommend for tourists who want to stay connected 24/7 and have exciting journey, is to use best pocket wifi in japan.
wifi rental japan is proud of being able to provide competitive price to you. It only costs JPY600/900 per one day. You can enjoy unlimited data wherever in Japan at any time with reasonable price. This pocket wifi rental in japan let you pick up wifi routers at airport. Enjoy japan with wireless pocket wifi.
*Advance mode/high speed mode only
*If you use more than 10GB within 3 days, speed limit will be applied to avoid congestion.
wifi rental japan wishes that all tourists have more comfortable and meaningful travel in Japan.
If you have any inquiries, please feel free to ask us.
CLICK HERE TO BOOK POCKET WIFI
#best pocket wifi rental japan #japan wireless pocket wifi #japan mobile and wifi router rentals #pocket wifi japan review #japan wifi rental airport #best pocket wifi japan 2018 #japan pocket wifi rental narita airport